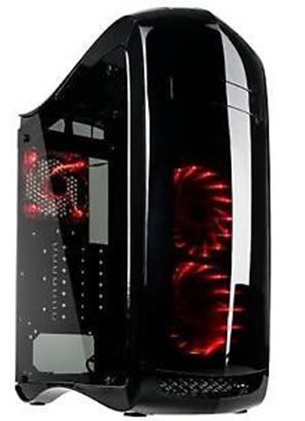 Don't Settle For Less
Stromwing R120-3 Gaming PC
Stop worrying about your computing, Sevenoaks Computers provide industry leading PC's, taking advantage of the latest technologies, to bring you quiet, fast PCs that don't break the bank. One step ahead of the competition our solid state drives bring a new level of computing.
Kick you gaming up a gear, with AMD Ryzen processors and Nvidia GTX 1060 Graphics to bring advanced gaming on a bidget.
Our solid state Stormwing Gaming Pcs will put a smile on your face.. Test drive one today.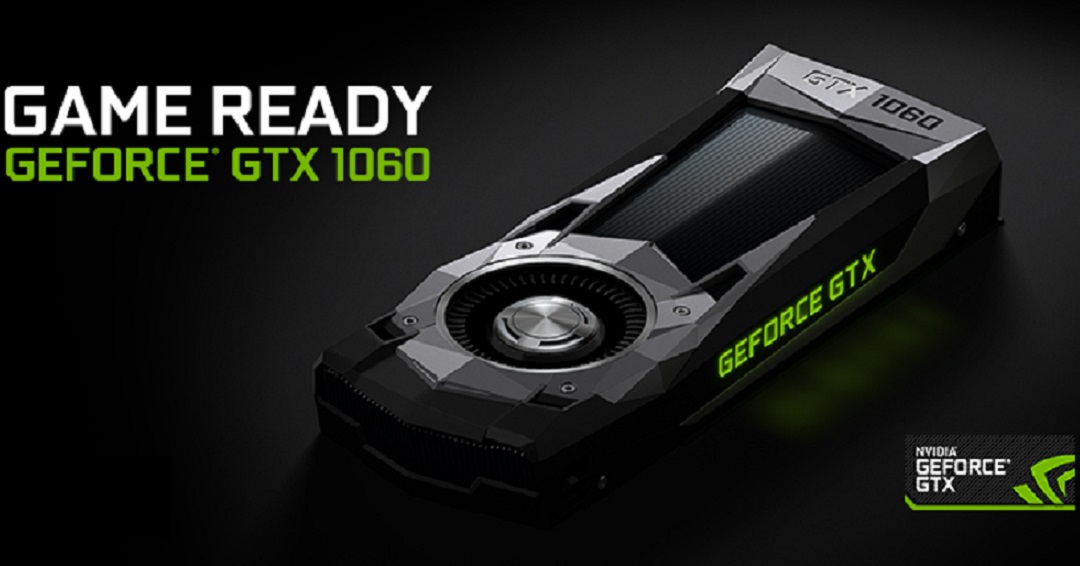 Game Perfected
Geforce GTX 1060 & AMD Ryzen
The GeForce GTX 1060 graphics card is loaded with innovative new gaming technologies, making it the perfect choice for the latest high-definition games. Powered by NVIDIA Pascal™—the most advanced GPU architecture ever created—the GeForce GTX 1060 delivers brilliant performance that opens the door to virtual reality and beyond. #GameReady.
The AMD Ryzen™ 3 processor empowers you to discover, create and innovate more. Featuring AMD SenseMI‡ machine intelligence and a newly designed efficient architecture, the groundbreaking AMD Ryzen™ processor learns and adapts to help you excel with incredible responsiveness, so you get great performance for everything you do.
Our solid state Stormwing Gaming Pcs will put a smile on your face. Test drive one today.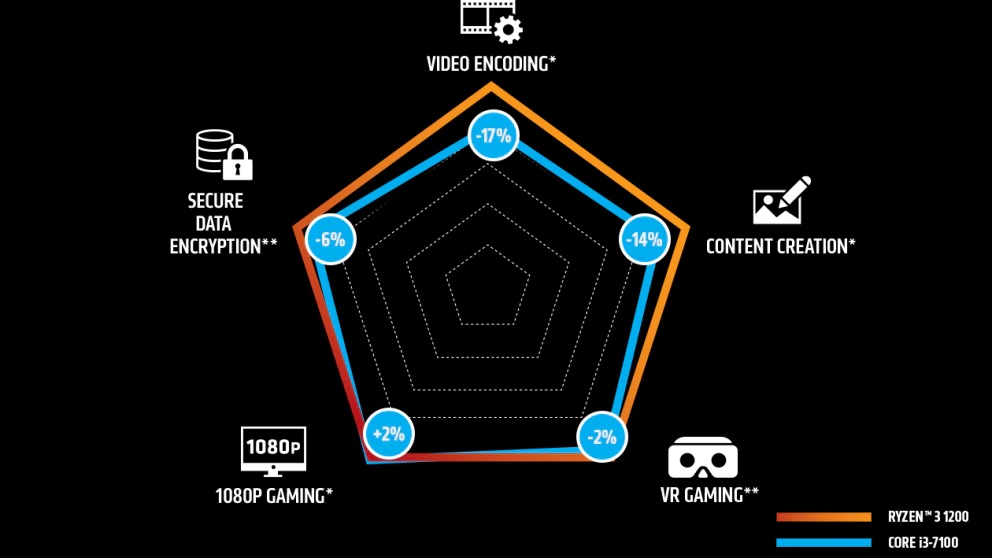 Charge Forward
Gaming Systems Built Exactly To Your Needs
Using professional quality components and integrating the latest technological innovations delivers the best possible gaming experience. Built to last, our PCs are designed to give better value per £ and longer life than off the shelf alternatives.
.
Solid State Boot Drives
Additional storage drives
Choice of Dedicated Graphics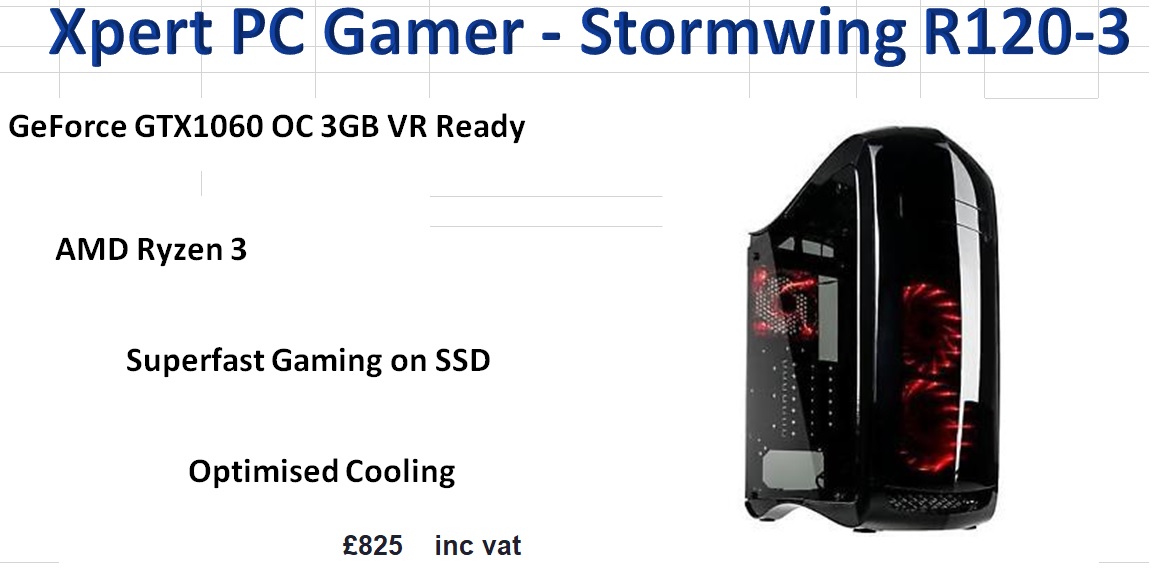 Pricing
Tower PC Packages
Stormwing A845 1050 Ti Gaming PC
Windows 10 64 bit
AMD Athlon X4 845 Quad-core (4 Core) 3.50 GHz Processor
Gigabyte GeForce GTX 1050 Ti 2GB
120GB Solid State Drive
4GB RAM
GIGABYTE AMD FM2+ Motherboard
2*USB3.0 8*USB2.0
Gigabyte LAN
Gigabyte PW400 400W ATX Black power
Punisher Gaming Tower PC
Keyboard & Mouse
Stormwing R120-3 1060 Gaming PC
RYZEN 3 1200 3.4GHZ 4 CORE 65W
Gigabyte GeForce GTX1060 OC 3GB VR Ready
240GB Solid State Drive
8GB RAM
Gigabyte AORUS PRO B450 AM4 Motherboard
2*USB3.0 8*USB2.0
Gigabyte LAN
Gigabyte PW400 400W ATX Black power
Punisher Gaming Tower PC
Keyboard & Mouse
Windows 10 64 bit
Stormwing R180-7 1080 8GB
AMD Ryzen 7 1800X CPU, AM4, 4.0 GHz , 8-Core,
GeForce GTX 1080 (8GB) Graphics Card
240GB Solid State Drive
1TB data drive
8GB RAM
Gigabyte AORUS PRO AMD B450 Motherboard
2*USB3.0 8*USB2.0
Gigabyte LAN
Gigabyte TX550 ATX 80 Plus Gold PSU
Silent Base 801 Midi-Tower Black, Orange
Keyboard & Mouse
Windows 10 64 bit
From Our Founder
We are here to help
I am passionate about delivering the best service to our customers. We understand that technology can produce a disproportionate amount of frustration and stress, particularly when dealing with be with outdated computer equipment. Productivity can be lost waiting for programs to load, run and execute programs, and often things go wrong at a critical time. We have geared our services to help you when you need it. We are conscious that not everyone has a big budget, and offer low cost remote support, as well as friendly onsite engineers and an in-house workshop to fix your problems quickly.
Services
What We Can Do For You
We supply an end to end service for our customers. You can order and collect from our Sevenoaks Workshop, or we can offer the full setup, configuration, data transfer and installation so you can be up and running as quickly as possible.
Bespoke Systems
A custom built PC to fit your needs and budgets. Our systems are fully upgradeable so you can stay ahead without having to start again.
Software Installation
We can supply and install a complete range of office software, from Microsoft Office through Accounts to Adobe & CAD Design packages so you are up and running on delivery.
Domain & Email setup
We offer Microsoft Office 365 email and our own Xpert protected server email system. We can register & manage your domains, email and websites.
Onsite Installation
We offer a full onsite installation for your new IT equipment. From connecting broadband & printers to setting up network shares and backup routines.
Our Services
Need Advice? Get a Free Consultation
Upgrading your IT equipment.
CAD spec PCs.
Business Laptops, from mobile to workstation replacements.
Mobile workforce support.
Office email and websites.
Free print audits.
A3 & A4 managed print options.
Cryptolocker protection
Mobile data access & backup
Network & Wireless setups & extensions.