Secure your PC at Home
Follow our simple guide to ensure you have the best protection.
Free Anti Virus!
Stay safe with our free trial     
Call 01732 466666 to activate
Make sure you're staying fully protected
Look out for these common weaknesses.
Weak Credentials
Weak login credentials are responsible for many hacking incidents. Attackers typically use brute-force tools to hack poor passwords, where they try numerous combinations of common words and numbers.
Vulnerabilities
Attackers frequently take advantage of known software vulnerabilities to gain unauthorized access. Zero day attacks take advantage of machines running free AV or lacking windows updates.
human error
Attacks typically aim to trick the user into opening a malicious attachment which deploys malware , or enter user name and password into a fake login panel. Once a password is found it will be tried across all your accounts.
Sevenoaks Computers Managed Security
Like Anti-virus, but much better 🙂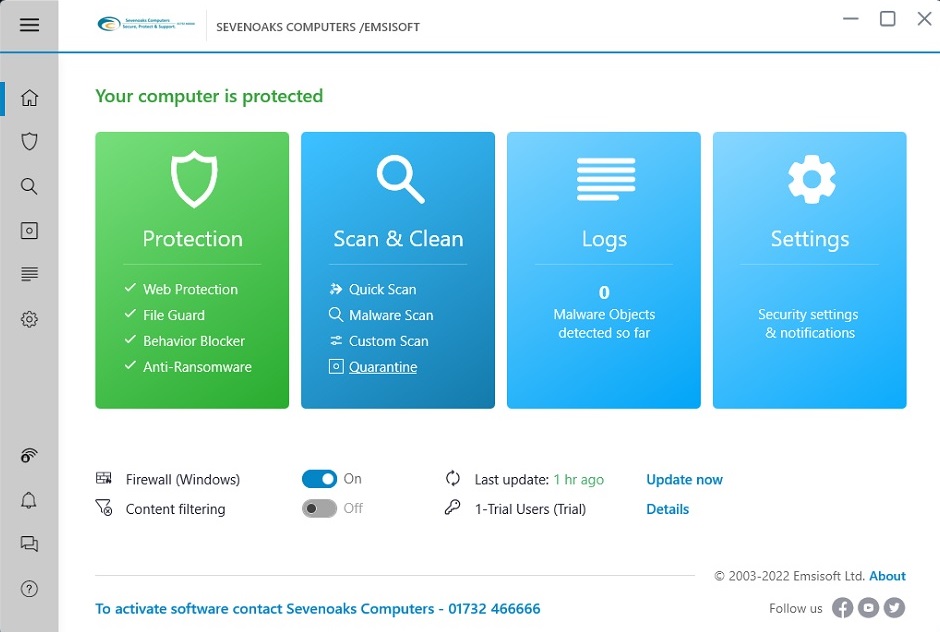 5 simple steps to protect your PC + Data
1. Remove unused software
Over time you've probably acquired quite a few applications that you're no longer using. You know the programs, like that trial CD burning program you downloaded to make your mum a copy of the latest Michael Bublé album. Consider these apps the mouldy leftover cheese rotting in the back of your fridge you forgot were there.
Delete. Them. All.
You won't regret it and if you need these programs again in the future, you can always download up-to-date versions. Aside from acting as backdoor access points for hackers, these programs take up space on your computer and slow it down. Who needs to scroll through 100 unused programs just to get the one you actually need?
2. Install all system and software updates
You're sitting at your computer and one of those little icons pops up alerting you to the fact that, yet again, you need to update another program. Constantly installing and updating your software may seem painful, and you may wonder why Windows needs to be updated every couple of minutes (or so it seems), but the cost of ignoring them may end up being much higher than the 2 minute restart that is required.
So, why are updates so important? Because they address important changes to the program.
Security Vulnerability Fixes: More than 90% of software and operating system (OS) updates are to patch security vulnerabilities in programs.
Bug Fixes and Product Enhancements: The best reason to keep software updated is to address security holes in programs, but it's also nice to have the latest features to improve your program's performance.
3. Back up your system
External hard drives are a good option as they can be kept physically disconnected from your computer and locked away for safekeeping. However, if it remains plugged in, it is as susceptible to ransomware as the hard disk of your computer. So keep your backup separate. Keep it updated. And consider encrypting both your computer's hard disk and the portable one while you're at it. If you want to know more about file encryption, we explored the benefits it in this post.
Backing up online using a cloud service is a convenient option that will also protect your data in case of theft, damage or other physical threats. There are many reliable options such as CrashPlan, BackBlaze, Carbonite or MozyHome. These programs will run in the background, updating your files in the programs web storage. Keep in mind this option usually requires a monthly fee and the first backup can take quite a long time, particularly if you have a lot of files accumulated over the years.
Safe, Secure, within Budget
We provide award winning security, sensibly priced, without all the addons designed to drive up your subscriptions.
With subscriptions for 1, 3 or 5 users, plus monthly payments fpr contract customers or larger installations and businesses, we can keep you secure without blowing your budget.
Keep your software up to date
You know you should do it, but but how often do you check?
Our Control Panel allows us to monitor your security to make sure you stay fully protected.
Regular maintenance, a little like having your car serviced, really is the best defense against attacks.
4.Create a good password
If you haven't got one already, make a good password, that is easy to remember but hard to guess. Avoid common patterns such as names, the first letter is capital, the last 2 a number.
How easy is it to crack a password?
7 characters: <1 second
8 characters: ~5 hours
9 characters: ~5 days
10 characters: ~4 months
11 characters: ~10 years
12 characters: ~200 years
So four random words strung together would be great – for example dont-copy-make-one
Want to keep them safe? Why not store your passowrds on a USB, stored in your desk?
5. Maintain a quality anti-malware solution.
Your first line of defence should always be an up-to-date PC security suite. Having an anti-malware solution that will monitor program behaviour and catch any online threats, including ransomware, will create extra layers of protection. Rest assured we think that our products are a pretty good solution, particularly if you don't want to slow down your system unnecessarily, but the important thing is that you pick the one that caters to your individual needs.
Free Anti virus is almost always a downgrade from the subscription product, and may not get updated as often or as quickly as the subscription models. Don't get lulled into a false sense of security with a product that is not protecting you fully.
In summary: ultimate protection requires a layered approach
While these tips may seem obvious, you should ask yourself: do you really do all of these things on a regular basis? Start your digital defence on the right foot and spring clean your computer with these easy steps, and just to be clear: you don't need to wait until next Spring to revisit them 🙂
High performance dual-engine scanner
Why are two scanners faster than most others with just one?
Emsisoft Anti-Malware Home not only detects more because it uses the full power of two major antivirus- and anti-malware technologies, it also scans quicker because of the efficient combination of the scanners.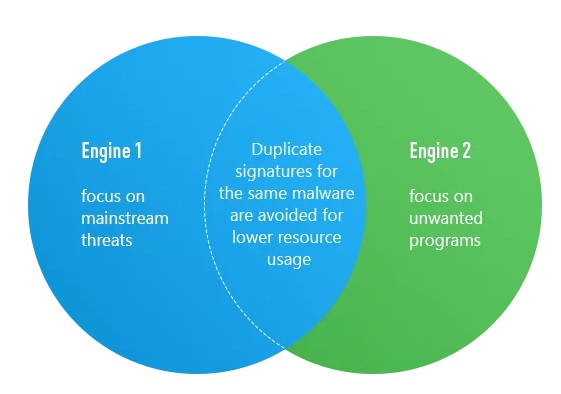 Security You Can Trust
Over-complicated software can slow you down. Our Managed Security is designed to be unobtrusive and light on its feet, so you can get on with your life.
Awarded and Trusted
You're in good company. Millions of people around the world trust this award-winning solution to protect their families, businesses and customers.
World Class Expertise
We're proud to have the world's top security and ransomware experts on board. Together, we build security solutions that offer maximum protection.
Constantly Updated
Malware is constantly evolving – and so are we. We deliver monthly releases and hourly detection updates to protect you from the latest cyberthreats.
Stay safe out there!
If you get a call and are unsure who it is, call Sevenoaks Computers and we can help.
Remember most companies do not call home users, if you get a call its probably a scam, so hang up, and call us or call them back on a number you can verify.