We are delighted to announce that his year we are taking on Target Ovarian Cancer, as our Company Charity, who were introduced at our Network Group IT conference, in Leeds. It was particuarly moving to hear from members of our group who had suffered from this conditon and how little is generally known about spotting the symptons. We hope that we can help raise awareness and contribute to their fund raising efforts.
Ovarian cancer is a disease that affects thousands of women each year, and early detection and treatment are critical to improving outcomes for patients.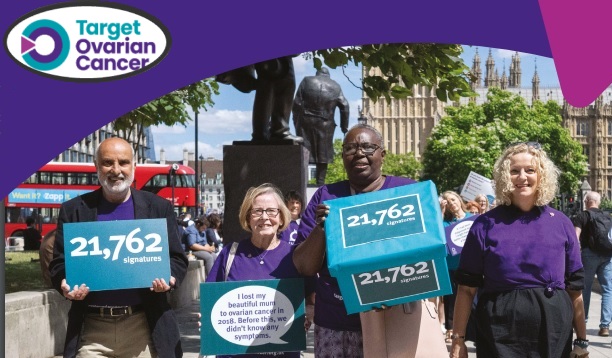 Raising Awareness
11 women die from ovarian cancer every day. Target Ovarian Cancer is a leading charity that works to raise awareness, funds and provide an effective response to this desease. They are helping to fund critical research that aims to improve early detection and treatment of ovarian cancer, as well as support services for those affected by the disease.

Making a Real Difference
We believe that it is essential to support charities like Target Ovarian Cancer that are making a real difference. Raising awareness of the signs and symptoms of ovarian cancer helps to improve early detection rates, and improve the chances of successful treatment.
What are the symptons?
click to download brochure

Persistent bloating (not bloating that comes and goes)
Feeling full quickly and/or loss of appetite
Pelvic or abdominal pain (that's from your tummy to the top of your thighs)
Urinary symptoms (needing to wee more urgently or more often than usual)
Occasionally there can be other symptoms:
Changes in bowel habit (e.g. diarrhoea or constipation)
Extreme fatigue (feeling very tired)
Unplanned weight loss
Any unusual bleeding from the vagina before or after the menopause should always be investigated by a GP.
Symptoms will be:
New – they're not normal for you
Frequent – they usually happen more than 12 times a month
Persistent – they don't go away
Supporting Women Affected
Together, we can support women affected by ovarian cancer and work towards a future where this disease is detected early, treated effectively, and ultimately cured. Thank you for joining us in supporting Target Ovarian Cancer who make make a positive impact on the lives of women affected by this disease.